Stories of Dad
Any desire to grumble fades in the face of grief. I'll always love you, Dad.
Robert Bruce Desson Liddle, born April 20, 1938, died in the very early hours of February 28, 2021. He was sleeping, as he had been for several days, at Country Meadows long-term care home in Neepawa, Manitoba. He would have turned 83 next month. He'd been battling cancer for decades, and more recently Parkinson's.
I am very grateful for Lorna, Dad's wife of some three decades, companion in house reconstruction, auction visits, Texas living and much more. She was with him every day from the time he went into the hospital in early December.
It felt wrong being far away in Ottawa. I was supposed to be sitting beside his bed, keeping him company, showing love by presence even if he couldn't understand me all the time. It's an experience many of us have missed out on over the past year. It doesn't make mourning easier.
I'm thinking of this post as an online wake of sorts. I think it will help with my own grief, and I hope anyone who knew him feels comfortable sharing joyful, sad, funny, silly or any other kind of stories.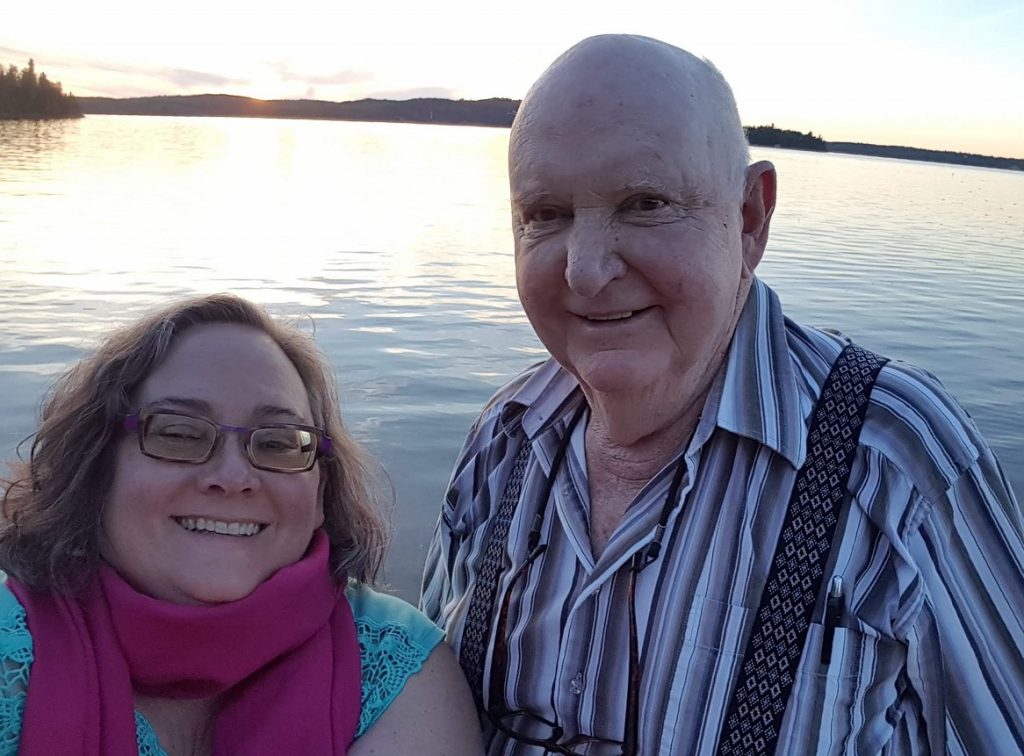 I can't think how to describe a life in a blog post. A traditional obituary seems too cold and factual, especially since I'm now getting glimpses of Dad through other people's eyes. The stories are touching and precious.
My pool of memory is disorganised, so I'll start with remembering him through my senses.
Scent: His workshop. Sawdust and solder. The smell of remote-controlled aircraft batteries and warm grass on a field where he and other men watched their little planes soar. The scent of hot sand and cool pine-needle paths at The Camp in Sioux Lookout. The smell of every hardware store or hobby shop he ever dragged me into.
Sight: His joyful face whenever we saw each other after months or years apart. His never-ending plaid shirts and his suspenders. His freckles. His frail form at the window the last time we said goodbye.
Sound: His voice on the phone, most Sundays, for the past several years, as we talked regularly. Words fainter and often fantastical or rambling during our briefer and briefer daily talks through January and February.
Taste: Freshly caught fried pickerel. Summer sausage sandwiches. Pots of chili and moose meat steaks. Fresh peas eaten straight from the garden. Cheez Whiz on toast.
Touch: His fierce bear hugs at airports over the years as we met or said goodbye. Our last hug, where I squeezed carefully so as not to hurt him, at the end of our visit in the fall.
If you have a memory of him, please share it in a comment or send it to me by email at susan at goodbyegrumblings.ca. If you email it, let me know if you'd like me to keep it private or if it's okay for me to share it on this page.

About GrumblingSusan
Word lover. Story addict. Daydreamer. Optimist. Ottawan. Treehugger. Scouter.