A lesson from Grandma: keep an elastic heart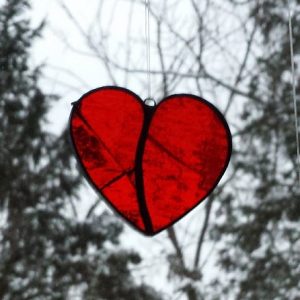 When Grandma died in November, family and close friends came together informally to mourn. We ended up in a big circle in my cousin's home, looking out on Grandma's beloved Rideau River. We shared stories, memories and sorrow. People spoke of how much they learned from her, how much they loved her, how much they'd miss her. The tears and laughter reminded me that we were all in this sad place together.
I still get a little shock every now and then when I remember she's not as close as a phone call. Every day I think of a conversation or an expression, or something I learned from her. I think to myself, "I must tell Grandma about that." And then I stop short, surprised and bereft again.
I think of our complicated family, and her simple love and acceptance. I think of how over the years she used the power of the phone to connect us all. She would call and talk about the accomplishments and news of other family members, and collect our news to share. She seemed to know everything that was going on with everyone.
The moment my stepfather introduced me as a timid 5-year-old, she and Grandpa were immediate grandparents. From then on, they were there for Christmas pageants, recitals, concerts, confirmations, birthdays, holidays. She even came to a belly dancing recital when I was in my thirties. She was a strong, enthusiastic woman who loved her tribe wholeheartedly.
It hurts to think there won't be any new memories that include her. And it hurts to think of how much more difficult it must be for Grandpa, her husband of 48 years.
I find some comfort knowing we all have stories, and that over the years we'll reinforce and deepen the memories by telling and retelling them. Thinking of her is bittersweet, but the mix of love and sadness makes me feel closer to her. Being sad is part of moving into a future without her, and that's a sharp and painful thought. My memories of her and the things she taught me will continue to influence me.
Grandma and I talked sometimes about the experience of having our children reach adulthood. Her list of people to love and worry about grew with each partner or child that joined the family. Her incredible elastic heart just kept expanding to include everyone.
Thinking of her loving acceptance, and the time and energy she gave to us all, it seems to me that a good way for me to honour her memory is by making sure my own heart continues to stretch and envelop everyone in my life with love.
Thank you for the love and lessons, Grandma. You'll always live in my heart.

About GrumblingSusan
Word lover. Story addict. Daydreamer. Optimist. Ottawan. Treehugger. Scouter.