10 great things about turning 49
It's birthday time for me, and as with previous years I've had the urge to do something unusual. Maybe it's spring fever (never mind that everything was still buried in in snow when I started writing this post). Or maybe it's because I'm a year older, and I want something to show for it. I like to think that I've grown or changed in some way over the past year. Different means progress, right?
I gleefully applied violet hair dye and thought about how much fun it is to do things that I wouldn't have done years ago, things my younger self would not have even considered. I'm learning to consult my feelings to find out if what I'm feeling is truly enjoyment — or if it's more of a not-disliking-something-because-I'm-doing-it-anyway-so-I-may-as-well-enjoy-it feeling. I know I'm truly enjoying something if I find myself grinning or laughing out loud. Violet hair makes me grin.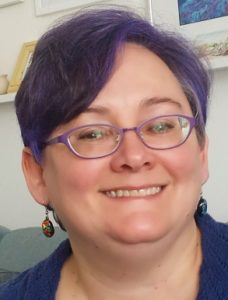 I decided to test myself to see if my idea for this post was honest. Am I really enjoying getting older? Challenge: Make a list of 10 things I enjoy about getting older.
I have something wonderful to show for the past 49 years: good friends who would help me out at 3 a.m. if I needed a listening ear or company. Whether I see them for breakfast often or once every few years, they're true friends nevertheless.
The most energy- and time-consuming work of parenting is done. Little kids are a lot of fun, along with being a lot of work. Now I'm enjoying spending time with two Things who are officially adults and can survive on their own. Husband and I have done what we can to raise two functioning people who can contribute to society and look after themselves; all that's left, really, is to enjoy their company, feed them occasionally and try to set a good example.
As a Gen Xer, I reap the benefit of boomer pop culture. Lots of books and movies tell me I can look forward to more than just fading away. As a story addict, I'm pleased to see my future self reflected in pop culture. Thanks, boomers!  The Best Exotic Marigold Hotel comes to mind, along with The Little Old Lady Who Broke All the Rules and Breaking Out of Bedlam. 
I have more empathy for my parents and grandparents, my aunts and uncles, and this is good for me.
I have a great new perspective. Fifty seems so much younger from my vantage point than it did thirty years ago. Being 49 and realizing that I don't at all feel finished helps me to really grasp the cliché that life is a journey. I remember very clearly looking at my mother, then in her early thirties, and thinking that she had it together and knew everything. I couldn't wait to be in my thirties so I could know everything too. Little did I realize that I might not ever know everything, because there's always room for curiosity and learning.
More absurdities to appreciate. Or, put another way, more opportunities to laugh at myself and my friends. I've always enjoyed things that are ridiculous, and as I age, there are more and more of them. Sound effects, for example. I notice it in my friends and in myself… when sitting down or getting up, or picking something up off the ground, out pops a sound effect. (A verbal sound effect.) Does saying "oof" make it easier to bend? Maybe it's a mellow version of the power yell I learned in Tae Kwon Do and karate. Welcome silliness!
I care less what people think of me. I can dye my hair purple without fear of being labelled a punk or a rebellious teenager. Caring less about what other people think is one of my favourite parts of getting older! Side note about hair: having always been dark haired, it's fun having a silver canvas to work from.
I have powerful camouflage. Middle-aged women, especially those of us who could be described as round, with glasses, tend to be invisible. I enjoy watching people from the background, and I have lots of opportunities to do so. Generally I'm not perceived as competition or a sexual object anymore, so I don't get the kind of unwanted attention I used to.
I get to try out another archetype. I was the innocent girl for years (in spite of my best efforts). I tried out the mother role, and quite liked it. Now I'm approaching the category of the crone, someone who is apparently wise, compassionate and bawdy. What a fabulous combination!
I've got some time and some freedom. I used to spend almost all of my non-working time doing important and time-consuming tasks like helping with homework, reading stories, playing with children, bathing, watching and listening to children. Some of those hours are free now, and I can choose to do any number of things with them. Like write!
There you have it. It was easy to think of ten things, once I got started. And I didn't even include learning to understand myself better.
How about you? What are you enjoying about getting older? Has a birthday prompted you to do anything unusual or wacky? Share in the comments or send me an email (susan at goodbyegrumblings.ca)!

About GrumblingSusan
Word lover. Story addict. Daydreamer. Optimist. Ottawan. Treehugger. Scouter.