I forgot to pack Grumblings
Sometimes a place just feels right the moment you walk in.
Sometimes that place is a comfortable and welcoming coffee shop, where the delicious aroma of coffee and baked goods enfolds you.
That's how it was when Dad and I opened the door to Roy Lane coffee shop in Sioux Lookout, Ontario. It's located in the building that used to house Liddle's Flowers and Gifts, a store owned by my grandparents.
The young women at the counter welcomed us with smiles and had us choose a ceramic mug from a selection that reminded me of a house party. We settled at a corner table to sip and people-watch.
Many stopped to chat with the owner. It was only around 10:30 in the morning, but my mouth started to water when the sixth person asked her if it was Thai chicken sandwich day.
She talked with us about happenings around town, family and news. Then she pointed out the Kindred Spirit mailbox in the corner, modelled after the original located on a remote beach in North Carolina. People are welcome to put their stories into this one as well.
This was an opportunity I didn't even realize I was looking for. Writing a letter for the mailbox was a chance to take a peek at what my grandparents' store would have been like in the fifties.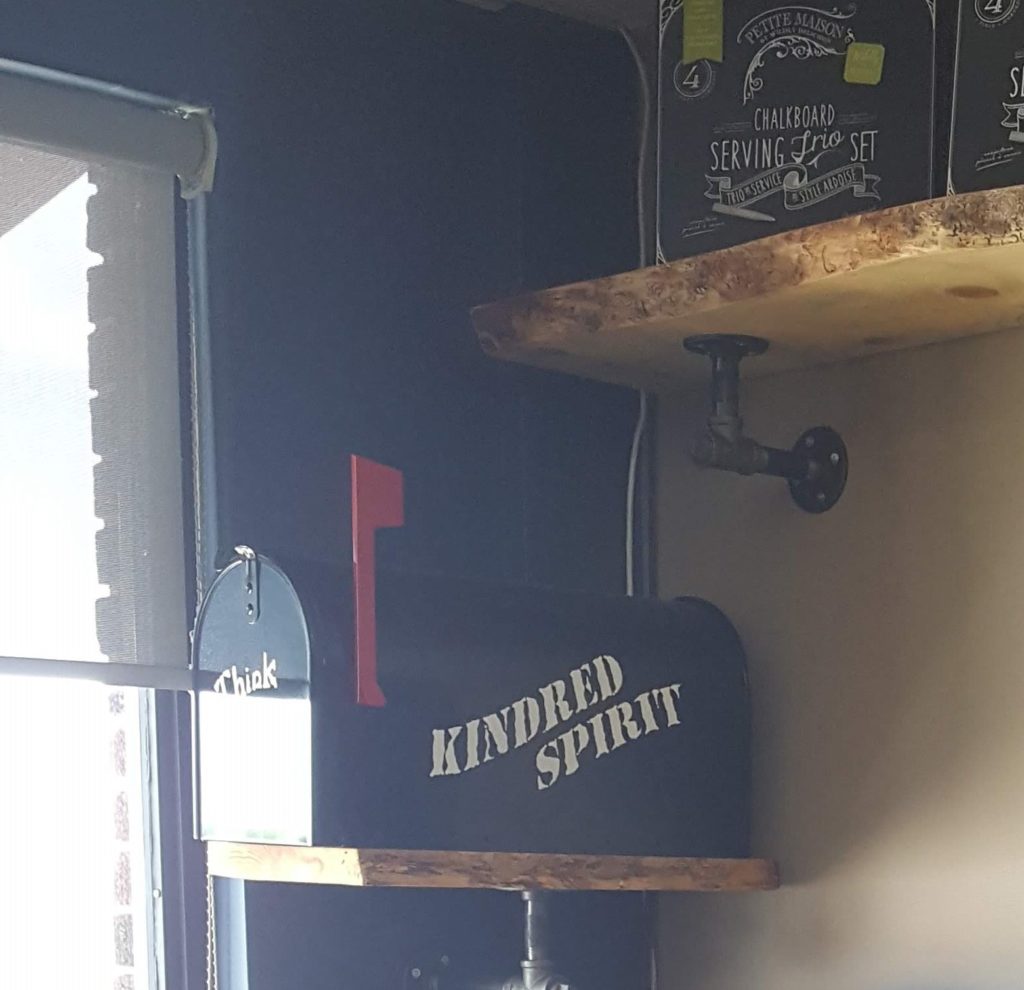 You'd open the door and an electronic chime would sound. You might smell roses from the basement, where the cold storage for flowers was, or the faint aroma of beef stew drifting down from the apartment above the shop. The store was packed with Belleek china, silverware, vases, postcards, terra cotta pots and souvenirs–all sorts of things that Grandma and Grandpa found on their shopping trips to Winnipeg and beyond. You could even buy LPs in the store, and listen to them right there before making a purchase. You could make a phone call or arrange to have flowers delivered. No debit cards in those days: you'd pay for your purchases with cash or put them on your account.
Roy Lane was a precious part of our visit to Sioux Lookout, and it left me feeling closer to Dad, and to my grandparents, with a sense of well-being and an unexpected feeling of connection to this small town. When I used to visit Dad in Sioux Lookout, I cared only about the beach at The Camp and the library. After this visit, I could picture myself living there. (Granted, it was summer, and everything looks better in summer.)
My travels began with a two-day drive from Ottawa to Neepawa. Thing One and I enjoyed veggies and hummus, lots of coffee and the audiobook of Trickster's Queen, by Tamora Pierce. Thing One dropped me off and headed out on a different journey across the country.
After spending a good and wonderful week in Neepawa, I flew west to Vancouver for a two-day Cook's Tour with Husband's uncle and aunt. They very kindly drove me all over Vancouver area, to the point where I had to make a of list of where we'd been. I saw trees and flowers to my heart's content! I took the ferry to Victoria, my last stop, where I spent time with a best friend from high school and got to enjoy more trees and gardens.
I've been working on this post for awhile, trying to figure out how to share the warmth and beauty I found, and the unexpected connection with the small town in northern Ontario. It feels like a tame story, maybe even a boring one. I can't think of anything dramatic about my travels. In fact, I'm pretty sure Grumblings didn't even come travelling with me this summer.
Oh.
Grumblings didn't travel with me this summer.
Stress didn't travel with me.
I packed no expectations or plans, other than to arrive safely, spend time with loved ones and be a good house guest. I slept, read, chatted. Even got a little bit hooked on "Jeopardy!" I spent time outside, enjoyed sunsets, picked up rocks.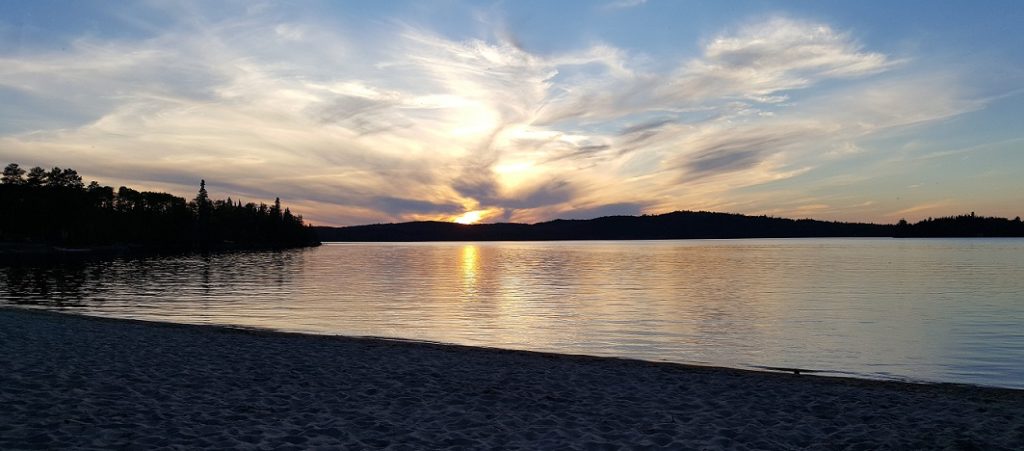 This adventure's main purpose was to spend time with Dad. But it turned out to be just what I needed after a long winter. Leaving expectations, and Grumblings, at home led to a calm and restful trip, which was just what I needed.
I've had fun and busy trips, with things happening every day, and now I've had this other extreme, where the only thing planned in advance was departure and arrival dates. Do you carry great expectations with you when you travel, and are they rewarded? Write to me in the comments or send me an email at susan at goodbyegrumblings.ca and tell me about your favourite trip. Did you bring a Grumblings with you, and if so, did they mellow out along the way?

About GrumblingSusan
Word lover. Story addict. Daydreamer. Optimist. Ottawan. Treehugger. Scouter.